Do you know what an avatar is and why you should have one online??
Let me know what you know!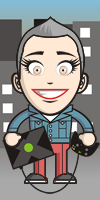 & Where you can [have some fun and] create one that is uniquely  you/yours?
Here are

 some

 

great

kid-safe 

avatar creator 

web tools

 

you

will love!
NB:  Don't use an iPad or a smartphone (iPhone, Samsung Galaxy Note) because it won't work. Use a computer that has Adobe Flash Player.
REMEMBER you do not have to sign up or sign in to be able to use any of these online tools – so don't!